Tennis requires agile movements, endurance and strength, along with hand-eye and ball co-ordination skills.
Each game involves controlled twisting in the upper body, so that the player can make successful strokes. Playing tennis regularly increases suppleness and tones the muscles. Common tennis injuries occur in the arms and legs.
The upper limb problems are generally caused by how the ball is hit and by how the racket is held. Tennis Stress injuries in the lower limbs relate to the rapid changes of direction, sudden stopping and starting, and reaching for shots.
Elena Baltacha, a British tennis player who practices Pilates has said that Pilates helps with a lot of injury prevention and she would recommend it to anyone.
Besides Elena, there are a growing number of tennis players who practice Pilates and Yoga tennis stretches to improve their muscle control, tennis injuries and flexibility. Some of them include Venus Williams, Lindsay Davenport and Martina Navratilova.
"I've been doing Pilates and Yoga, trying to lean out my body so I won't be bulky."
Tennis phenomenon Serena Williams has taken up Pilates, the fastest growing activity in the country (Up 450% with over 8.5 million participants in the US) …to get stronger? No to lean out her body so it's not so bulky.
The super star explains that her new hybrid Pilate's workout includes Pilates two to three times a week; just like Joseph Pilates suggested in his book "Return to Life Through Contrology." Published 65 years ago.
"In 10 sessions, you will feel the difference. In 20, you will see the difference. And in 30, you'll be on your way to having a whole new body."
Is it working? Williams said that she has Pilates to thank for her new slim line look, She claims "Pilates gave her results within a week", she dropped from a size 12 to a size 10, and her famous rear end is now a great deal smaller.
Williams has become the queen of lean. After she won the Australian Open (The Grand Slam of Asia) in January.
"I wanted to get really fit. I wanted to lose some weight. So I've been doing Pilates and Yoga, trying to lean out my body so I won't be bulky."
Her regime: Pilates two or three times a week and when she's training for a tournament, "a couple of hours of hitting, then an hour or two of cardio and strengthening in the gym."
Serena began incorporating Pilates into her workout in January 2010 when she finished the Australian Open. In the six months that followed Serena's serve has become magical. Her 1st serve sounded like a shot-gun in the New Wimbledon stadium with an average speed that exceeded 105 mph and a top speed 122 mph. That's a lot faster than the fastest major league baseball pitch @ 109 mph.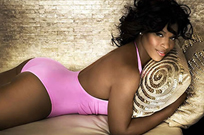 Martina Navratilova former #1 in the 80's who won 167 career titles (all-time record for men or women) credits Pilates with helping her body return to the flexibility she enjoyed in her late – '80s heyday. Navratilova commented on Serena's serve from her front row seat. "Serena's serve is astonishing, the best ever for a woman." Pilates added years to Navratilova's career and William's new Hybrid Pilates workout is just what Serena needs to add more years to her career.
Williams said that she has Pilates to thank for her new slim line look…but what about her dazzling serve? A study shows that Pilates could have something to do with it. Kimberly Sewright a Doctoral Candidate at UMass with a Masters in Exercise Science conducted a study of 16 male, collegiate tennis players in 2004 that showed a significant increase in both tennis serve velocity and muscular endurance after only six weeks of Pilates Mat training twice a week.
"I always can rely on my serve, but I've never been able to rely on it as much as I did in this tournament."
Does she diet? "I don't even know the D word – before adding that she sticks to smaller portions of every meal, a lot of grilled or baked chicken or fish, and steamed veggies but I can never turn down a good piece of cherry pie and for cocktail (she likes the peach ones)". She is an amazing women like so many other women that incorporate Pilates into their lifestyle. She and her sister Venus joined, Pilates mavens Jennifer Lopez, Gloria Estefan and Fergie in becoming limited ownership partners in the National Football League's Miami Dolphins.
Fergie attributes her toned muscles and the rock hard abs that she's been flaunting in her recent music videos to Piloxing, a Hybrid form of Pilates that combines Pilates with Boxing (more on that later).
Today Serena is living the American dream. She grew up in a poor LA neighborhood but because of her drive and two great parents that deeply cared about their kids future. her reach has exceeded her grasp.
At 28 year old she has founded and created her own skincare and clothing label, she is an Olympic Gold medalist, philanthropist and the best women tennis player in the world and she is a good person. Her friends describe her as an incredible person- Beautiful, intelligent, fun and spiritual. Read the full interview here.
Tennis is a type of racquet sport that demands both power and agility with high fitness levels. It involves a wide range of motion. Pilates & Yoga tennis stretches will assist any tennis injuries treatments.
The player not only needs to be quick to hit the ball by extending the whole arm, but also needs to be quick to run to the net or baseline. A good tennis player is required to have strong muscle endurance, flexibility and proper balance to last the match. thus needing to do Pilates & Yoga Tennis stretching.
Tennis, being one of the racquet sports like squash and badminton, is by nature one-sided. As tennis players only use one side of the hand and arm to hit the ball, they tend to skew the movement to only one side of the body.
Such skewed movement creates an unbalanced body to the player that often results in over-use injuries. It is not surprising to hear that tennis, squash or badminton often injures the arms of the players. I think the same also goes for soccer if the player uses only one side of his legs.
This is when you will need Pilates & Yoga tennis stretching to give you that extra edge on the court. Pilates & Yoga tennis injuries treatment programme aims to help the tennis player to achieve the following:-
Improve power of your strokes by increasing the strength of your powerhouse.

Improve your body balance for quick reaction to direction change.

Improve your muscle control to prevent over-use injury.

Increase your upper and lower body power for a powerful stroke and better endurance run.

Reduce back injury by increasing the flexibility of your muscles.

Improve flexibility with a more balanced body.

Consistent Pilates Yoga exercise keeps your core muscles strong and gives you more powerful strokes and endurance for your tennis match.